Ahoy, again fellow bloggers, friends, readers, and passers-by. You are now at the new and improve
Life on a Pencil (http://lifeonapencil.blogspot.com)
.
So what's new with
Life on a Pencil
?
As you may see I have added more features and segments which includes
Komiks Review
which will be a series of reviews, recommendations, and suggestion on some of the many Philippine comics titles (whether mainstream or independent).
To help drawing skills develop which has been stagnant for a very long time, I have decided to add comics to my blogs which I would like to call comics-blog or "
clog
"
What the heck is a
clog
?
I made up this term back at November 27 when I am reading Sir
Gery Alanguilan
's Crest Hut Butt Shop Comics at Webcomics which featured a daily short comic skit about his life and struggles. Most of his comics are humorous but was later shifted to a more sadder theme which I dare not to say. He stopped making his daily comics at around June 2007. Then it hit me, he is telling his life through comics, and sometimes a short comics is followed by a description and supporting information behind the strip. Thus, making me come up with a "what if", what if this is another form of blogging which has not been fully aware of most of us. I tried looking for "comics blog" and "clog" on Google but the results have nothing to do with the unified meaning of "blog comics" I wanted to have. I am not saying I am the first "clogger", there are a lot of artists out there who I think have done this already but just called it as "blogs". If they derived
VLOG
which stands for
Video Blog
, then I think it is not a bad idea to have another word derived from it, which I would like to coin as
CLOG
or Comics blog, comics supported by a blog.
What is the story behind the word
clog
?
Doh! I knew I shouldn't place everything up there. Browse up to know the story hehehe.
Finally, I will call my "
clog
" as
Life Comics
which will feature my periodical rants, my perspective on certain issues, events, personalities and more with my usual witty side comments which I hope to be somewhat funny so, let me start off with my first CLOG entry this first Day of December 2008: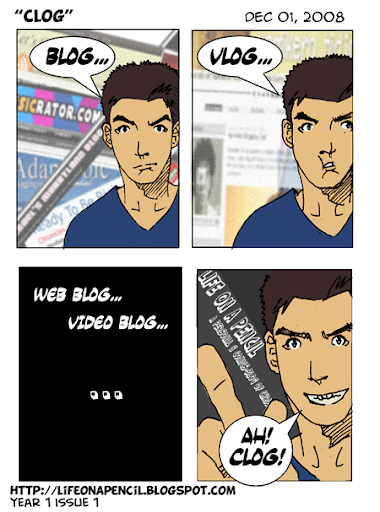 I've tried my best (so far) to make my comics character up there to look exactly like me, but any who. This is me in the process of making Life on a Pencil into a Clog. The banners and screenshots behind the first panel is from the blogs of my fellow bloggers which I hope they don't mind me using it hahaha.

I haven't draw for almost a ten months and I am not that "pro" remember what I said in the past that I am a frustrated artist, well I try not to be frustrated anymore with my Life Comics Year 1 Issue 1 entitled as CLOG