Ah! It is that merry month again once a year where you hear the innocent and jolly voices of children and adults singing songs of praises, letting you know that it is Christmas, and naturally you just want to shout "
PATATAWARIN!
", "
PATAWAD!
", "
WALA!
", "
SA PASKO NA!
", or if you are a lot more sinister let them exhaust themselves singing without giving any attention to them...
DEADMA
lang ba? Hahaha. It is a funny thought right, but what is funnier is when you apply it every Christmas season.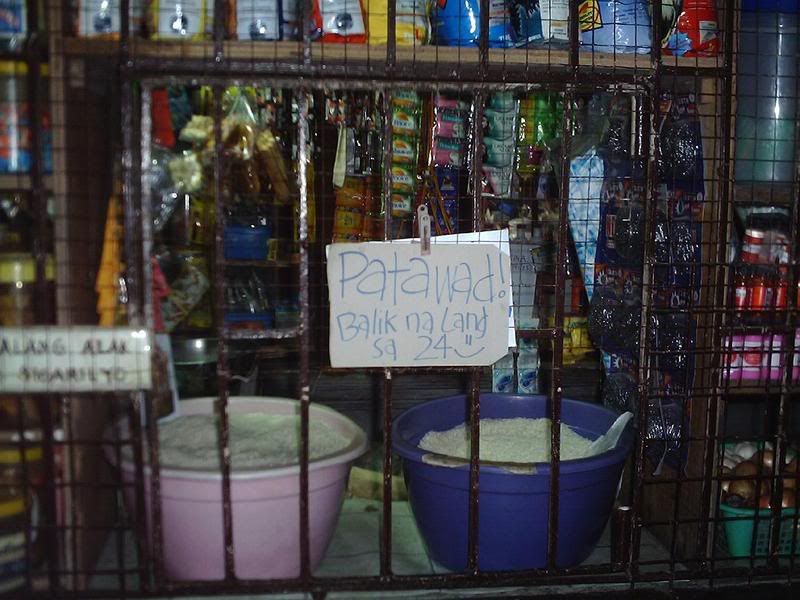 A decent example of what this post is all about. A photo from "My Silent Sanctuary's Blog" post on PATAWAD.
I've tried serenading a few of our neighbors once with a Christmas carol, I think I was eight that time. It was a different era that time, the 90's. During those times public transportation fare, cost of living (utilities, rent, and daily expenses) weren't that high, and people were generally all loving and warm-hearted everyday Catholics. Fast forward that to today and turn all what I've said around, and now rejecting those neighborhood kids (and adults, LoL) who just want a buck from you is so much easier. To everyday hardworking Filipino middle-class families, every coin counts. Once the Christmas season hits in full throttle mainly starting from December 16 (Simbang-Gabi series) to the December 25 (Christmas Day), some home owners fear such innocent Christmas Carols.
But we here at the Aquino residence have already grown tired of it all, especially that we now own a Sari-sari store. We are literally a fire that attracts a moth of carolers. We are your modern day practical middle class Filipino family. We only earn a small amount of income from the sari-sari store and it is foolish to just give that away for a duration of 10 days. Instead of wasting hundreds of pesos for the everyday Filipino Christmas carolers (kids and adults alike). We just say those popular Christmas "Bah! Humbug!" lines like PAPATAWARIN, PATAWAD, WALA, o SA PASKO NA. We don't live in a high class subdivision or village, so while others find it adorable and entertaining to be serenaded a few times a week by children in the duration of that Christmas week, we here at the barangay level are irritated with the same "sa aming bahay ng aming bati" Christmas carol for every freaking day. What is also irritating is that these kids are devious in a way that they separate into one, two, three groups, and even as single one man caroler to just to get more buck from us. There also have been times when we have seen the same faces of kids for over four times just for that single night alone but for different groups. Others even hid themselves in the darkness of the night or the shrubs nearby while their "accomplice" do most of the singing to not get detected. This just spoils the whole Christmas caroling thing. So here is some of is my personal guide on how to reject and say those Christmas Carol Rejection lines without the guilt.
Use hand gestures like waving, or showing them that you have nothing (turning or twisting an open hand back and forth), or shooing them if you want to remain anonymous, but who are you kidding? right?
Try the direct approach which always works best. Say PATAWAD!, PAPATAWARIN!, WALA!
Make a written placard and post it in your gate, door or window or somewhere where the Carolers would clearly see this. Just jhope that these kids learn how to read or you'll just doing the first two examples.
Try turning off most of your house lights to give the illusion that nobody is home or is already sleeping. We have evaded both children and adult Christmas carolers using this method in the past. It usually works except for those carolers who care less if you are already sleeping just to get money from you.
If you have a relative far away or a vacation house, it is the best time to get out of the neighborhood until Christmas just to evade such carolers. If you plan to travel it is also the best time to do it starting on the 16th of December onward.
Place your aggressive dogs in front of the gate to scare of kids. Enraged dogs barking muffles the scared Filipino children caroling.
You can also just ignore and deny that hey are there. You sure will be criticize for being a snob and an inconsiderate douche, but that would teach them that all their efforts are worthless. This one method we have tried only once or twice with kids especially those who don't listen to first rejection.
This one we haven't tried yet and I don't think we'll ever will, but I want to do personally. That is to just talk to the carolers and say that I am not a Catholic or Christian, and I do not believe in Christmas. That would give the impression to the Carolers or remind them yearly that the person in the house doesn't care about a religious sect's tradition.
But being in a Catholic family, all of these seemingly Scrooge ways of evading and turning down Christmas carols are set aside for only one day. The 24th day of December "Christmas Eve", we finally allow Christmas carolers to do what they like. A time when we are finally act like normal grateful Filipino Catholics (even if I am no longer one). The three kings only gave their presents at the birth of Christ, and we are far from being luxurious kings. Even a fictitious jolly old man like Santa, but even Santa only gives presents on Christmas Day alone. We are a practical middle class Filipino family and patawad is a practical counter action to that very impractical tradition of Christmas Caroling.
Okay ng matawag na barat, kesa kami naman maghirap.
.